Travel in Singapore is one of the many great things about a visit to this island city-state (Info source: 5 Great New Attractions For Returning Visitors to Singapore). Singapore has the magnificent Changi Airport, annually rated as one of the best airports in the world. There are at least five ways to make the Singapore airport transfer into the city.
MRT East West Line to Changi Airport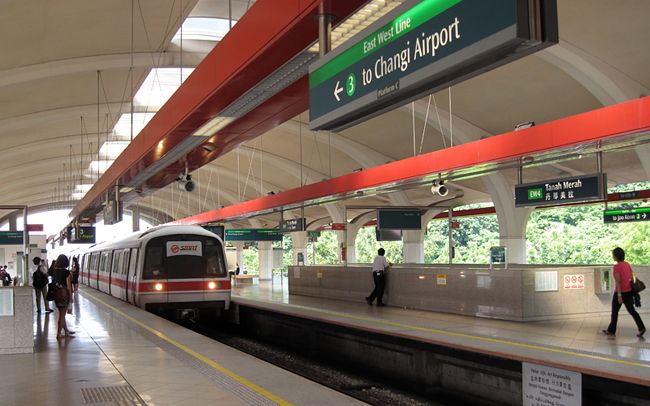 From Changi Airport MRT to City
Changi airport is located on the eastern end of Singapore Island. It is connected with the rest of the city by the MRT, Mass Rapid Transit system. This is a network of surface and underground trains that speed visitors to and from the busy central business district. Fairs depend on distance of travel and length of validity of the fare you purchase.
Airport Transfer Service by Cab
For families, or groups traveling together with more than three people, Singapore has approved a Maxicab system. These vehicles can carry as many as seven visiting passengers, plus their luggage, allowing everyone to fit comfortably into the vehicle. As with regular taxis, rates depend on the time of day and destination.
Maxicab rates start at fifty Singapore dollars. For an extra ten dollars, Singapore, a Maxicab will meet and greet visitors and transfer them into their arrival destination. This type of transportation is also great for touring Singapore, with special two-hour rates or day long rates available.
There are a wide range of services available with special Maxicab rates. The company website is located on the Internet at www.maxi-cab.sg where you can get complete details on the various services available. Maxicab Singapore airport transfer service is definitely the best value for groups larger than three travelers. This service is also great for smaller groups with a large amount of luggage.
Visitors not traveling in a group larger than three may also use a number of other airport transfer services available at any of the four airport terminals. Each terminal has fast and efficient ways of getting you into an official taxi, regardless of how many passengers have arrived simultaneously. Fare sharing in regular sized taxi vehicles is discouraged. Lowest average rate into the city center is about 15 Singapore dollars.
Singapore Airport Transfer by Bus
There are also a number of bus transfer services available from the Singapore Changi Airport. In addition to regularly running public buses, most hotels have mini-bus shuttle service buses running. There could be a moderate amount of waiting time to catch one of the hotel bus transfer vehicles.